Your first days at Glovo
Did you apply for a job or are you thinking of applying? Once you've been hired, we will welcome you with open arms. This is what you can expect in your first week at Glovo.
At Glovo, the main goal of our onboarding is to make you feel more connected to the company and its values as well as our ways of working. In our best efforts to avoid confusion, frustration, and a lack of engagement, we revamped our Onboarding experience, elevating the bar to meet the expectations of our new colleagues.

First things first
When does the onboarding start?
The onboarding process starts from the moment you accept the job offer at Glovo, and here the most important thing is to reduce the gap between that moment and your first day at the office. We do this by providing all information and support in that period. 
At first, on the offer call, the recruiters share the Onboarding Toolkit, which contains all information about the process and journey you will follow, including the schedule, the tools we use, tutorials, how to collect equipment, office information, etc.
During the whole onboarding process, including the pre-onboarding, you have full support from the Onboarding Team via email, who can connect you to other teams that you might need support from. All this is to make sure that our newbies feel very supported at this moment. 
How long is the onboarding process?
On the starting date you will attend our Glovo Onboarding Program which lasts 3 days. After that, your team takes over and will start the Functional Onboarding prepared by the manager and colleagues featuring everything you need to know related to your specific scope and department. 
The Onboarding Journey
Glovo's Onboarding Journey consists of 3 days, each day with a different theme. 
Day 1:  My Glovo Essentials
Aims at equipping you with all the essential tools you'll need at Glovo. 
Day 2: Glovo 101
Includes all the learnings about our history, business, and teams. 
Day 3: Life at Glovo
We demonstrate how we put our company culture and values into practice.

Sneak peek
"Let me say that Oscar, our CEO, is very involved in the onboarding, not only is he still welcoming each and every one of the newbies in a dedicated session, but he is also part of our onboarding website!" Federica Colagiovanni, Onboarding Specialist.

"If I would give a spoiler to a newbie, I would tell them to be ready for some fun and interactive sessions, a lot of learning but also for a great opportunity for bonding. The onboarding is not only about getting to know content about the company and the business, but it's also about living the culture to its fullest during 3 days" Giovanna Paglioli, Onboarding Specialist.
Each day consists of 2 virtual sessions with the Onboarding Team and self-learning time – time allocated to complete digital learnings on your own. During the virtual sessions you will have the possibility of creating a network from day 1, meeting other new hires from different regions and departments as you will have the possibility to interact with each other by completing activities together. 
During the onboarding you will be added to a Slack channel where you have the possibility to keep on interacting and getting support from each other and from the Onboarding Team. 
We know that the first days can be a little confusing until you are familiarized with our tools and ways of working and for that we'll share:
The

Onboarding Toolkit

that contains all the important information about the onboarding process.

Calendar invites

for all virtual sessions. 

We'll add you to the

Slack Channel

where we provide support and where you can interact with new colleagues.

The Onboarding Website,

is an interactive platform that contains tools and materials used during the onboarding. You'll have access to it even after the onboarding finishes, so you can easily look it up in case you forgot something about a specific topic.
The Onboarding process from A to Z involves many different teams:
Talent Acquisition

as the recruiter responsible for the hiring process remains an important reference point. They are the ones who provide the initial information regarding the onboarding process and will share the toolkit. 
The IT Team

is in charge of all the accesses and hardware.
The

People Ops Team

is in charge of documents collection and preparation of the contracts.
The Mobility Team

takes care of the VISA process (if applicable) and relocation of the new employee.
The Onboarding Team

participates in the entire onboarding experience of the new joiners and is in charge of organizing the onboarding sessions and content preparation. 
Our

Office Managers

provide all information about office rules and organize local office tours.
People Partners

will

contact you during the first days and explain their role within the organization.
Your direct

Manager

is directly involved in the onboarding process by welcoming you on your first day and by preparing the team Onboarding, which will follow the Global Onboarding.
We also have support from different teams which provide amazing support and useful content for the onboarding sessions such as the

People Technology Team, DIB Team, Product Team, and Public Affairs.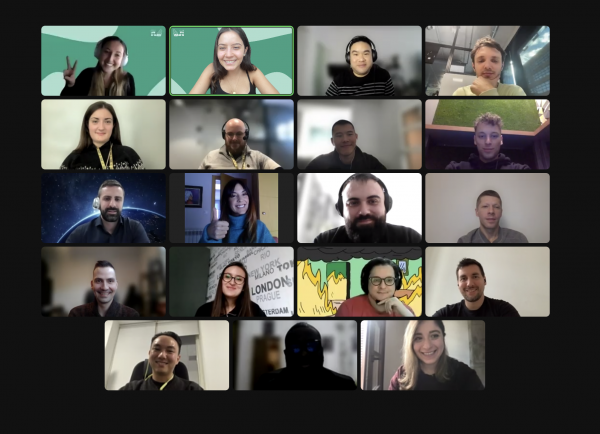 Onboarding's new face
During the onboarding revamp, our ambition was to maintain what people loved about our onboarding experience while creating a more tech enabled experience closer to business needs. We often receive the feedback that the human touch present in the process played an important role in cultural development, which is why it was important for us to keep that alive.
The new onboarding gives you a user centric vision and more autonomy to learn at your own pace by using the Onboarding website at every step. As in our previous version, our onboarding lasted several weeks and our tools were shared from different channels. 
Best part of onboarding our colleagues
"The energy and enthusiasm new joiners bring on their first day is incredibly motivating and succeeding in keeping them engaged and full of energy during the full onboarding experience is extremely rewarding for me." Federica Colagiovanni, Onboarding Specialist.
 "For me the best part is having the possibility to connect with different people from different backgrounds. The onboarding allows us to have contact with a very diverse group of talents".  Giovanna Paglioli, Onboarding Specialist.
The importance of having a consistent onboarding and how this initiation process helps to foster Glovo's culture
Onboarding plays an important part in the journey of an employee. You were already challenged during the selection process, which has very high standards, and it doesn't stop there. That is why we believe, once you have accepted the offer, you would have the same expectations toward the company. Our objective? To meet and even exceed this expectation. 
Our Onboarding is directly connected to our culture and values: 
Every new joiner, independently from seniority role, department or country participates in the same Global onboarding, enhancing our transparency in communication and our commitment to diversity.

We give you ownership over your onboarding by giving self-learning time and opportunities to ask questions.

We have them interact with each other with several activities that foster an environment filled with good vibes.

We equip them with all information and tools needed to become autonomous and solution oriented.

We provide high level content that deep dives on important topics such as our business, diversity and inclusion, and performance.

Glovo's onboarding gives newbies a real chance to truly live and experience our values which ultimately makes a huge difference in the overall experience. 
Interested to know more about our ways of working? Check out our hybrid collaboration model.