One year of resilience – A personal diary
Part 1. 
My name is Sophia. I am 27 years old. I have been working in the Training department of LiveOps in Glovo for over 3 years now.
I am also Ukrainian. And I have seen war. 
On the 24th of February 2022 I woke up to the usual yet still annoying sound of my alarm clock at exactly 07:35 am. The very next second when I try to put it on snooze to steal some precious minutes of sleep before getting ready for work, I see an incoming call from my mom. 
"So unbelievably weird, she never calls me in the morning", I am thinking to myself. 
I pick up and I hear her wailing. Just long, loud sobs. 
"Mom. Mom, talk to me. Mom, please, what is going on?"
"My baby, where are you, how are you? The war has started."
I freeze. I put the phone on speaker and check the messages. Lots of missed calls and messages.
Immediately I get another phone call from my best friend. When I pick up, he sounds distressed and in a hurry. 
"Hey, are you up?" 
"I am now."
"You have 10 minutes to get ready and we are leaving."
What is happening? Where are we going? Why? 
The next five minutes I am trying to wrap my sleepy head around it. I check the news that has confirmed the full-scale invasion.
First things first, I need to pack a suitcase. 
But what exactly should I pack in the next… 5 minutes? This is ridiculous. I left my dishes overnight. I have meetings later in the day. I have plane tickets to Madrid for tomorrow. What the hell is going on? 
10 minutes later we are already in the car trying to leave the city and just drive away.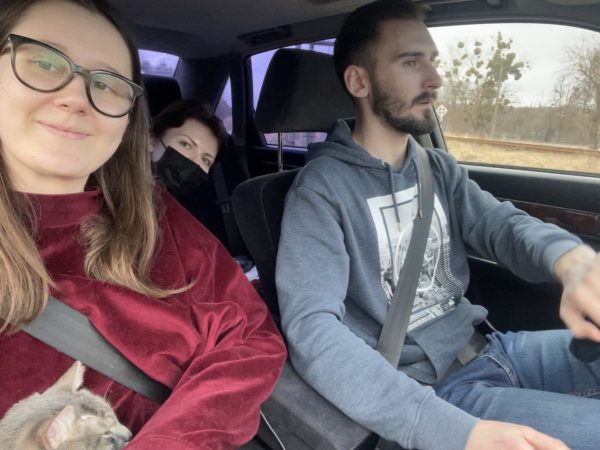 (I can't believe I even have this selfie. It looks so normal, doesn't it? So, rule number one: never let a photo from social media fool you. People here are exhausted and very scared. Except for maybe Kaiser, the Cat.)
Then there are dozens of phone calls. My mom is alright. My friends and colleagues are now everywhere but Kyiv. Messages from strangers I once met on my trips. Messages from people I had a major falling-out with.
But yet, no message from my father who lives in the country that started the war in my home. 
Still no message from my godmother, my mom's sister, who lives in the country that supported the country that started the war in my home.    
Such a weird pattern. 
Hundreds of military machinery full of young men are heading towards Kyiv to defend the city. Will they survive this? Will we survive this? 
More traffic jams. The frightening silence. The news on the radio with minutely updates on the events. New missile attacks. The enemy is moving forward alarmingly quickly. Updates on the roads. New routes. More traffic jams. 
350 kilometers from Kyiv took us almost 19 hours of driving. 
Once we found a place to spend the night, I open my suitcase. I remember every detail of this day, except for these ten goddamn minutes that I was packing.
Four T-shirts, two pairs of shorts. Why on earth did I think they were the most necessary things to flee with in winter? 
Laptop, charger, passport. Not that bad, Sophia, at least you packed those. 
Tarot cards, new bullet journal, 10 pens. Those you could definitely do without. 
The moment I made use of the notebook and a pen to write down every detail of this day, I allowed myself to check the reality.
It is the beginning of a new war and this time I see it.
When will I go home next time?
Will my mom be okay?
Will my friends go to war?
Could this house ever be shelled tonight?
Could this little village be reached by the enemy troops?
How will we get over this? 
Fear. Hatred. Uncertainty. 
Hysterical tears turn into silent, helpless screams and skin biting not to wake up my friend that has dropped into a deep sleep after the exhausting drive. It is 25th of February 2022, 04:04 am. I should get some sleep. I am still alive.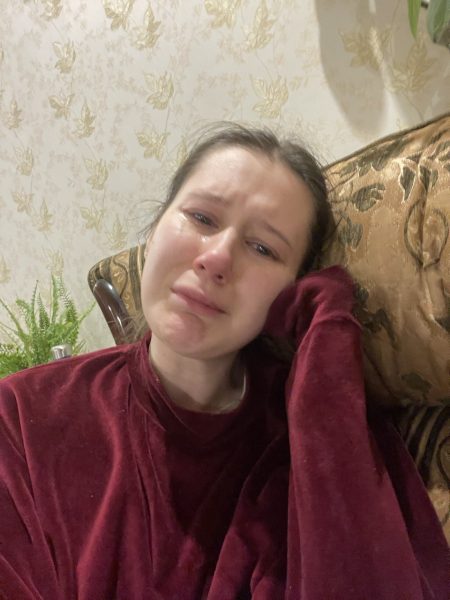 ("It hurts so bad I can't breathe. I can't do worse. If I ever survive this pain, I need a reminder of how strong I can be")
Part 2. 
A week into the war, I was living with my friends and their family in a small town in the west of Ukraine. The range of emotions I would come to experience would vary from "just a few more days and we'll be driving back to Kyiv" to "if I physically survive the war, the suffocating pain will end me anyway". Once I realized that the first scenario is unlikely to happen, I managed to reunite with my mom in my hometown. 
It is a calm city located less than 100 kilometers from the border with Poland. However, over the couple of weeks that I was staying there it was shelled two times. My peaceful hometown was attacked two times.
We heard it. And we saw it. 
One night during air alerts I slept in a bathtub. The other night, my mum and I would stay in a corridor between two walls for if the building comes down, there is a higher chance of survival. Another night I would get too panicked over the possible explosions that we would stay in the basement of our building with other neighbors. 
When there is an air alert, you hear loud and devastating sirens that signal that something dangerous has been detected in the sky. Once you hide in a somewhat safe place, silence becomes your worst nightmare. Every little noise is triggering. You erratically scroll through news to learn whether the missiles are anywhere near you.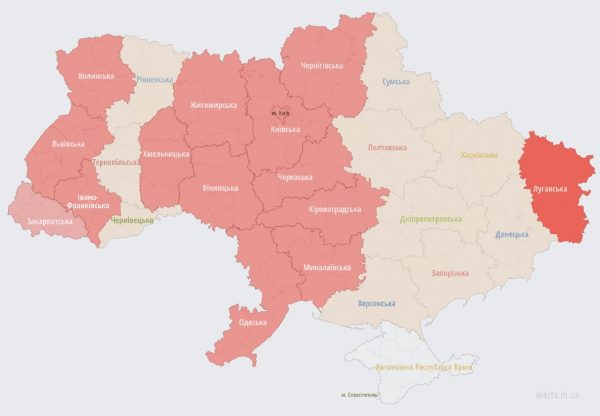 (The map shows regions where the possible air attack may happen)
 Video (Trigger warning: lower your sound because there are sirens that Ukrainians hear way too often)
Surprisingly, life went on and I was working nevertheless. 
Since I was a Culture Ambassador of Ukraine at Glovo, I was invited to the Ambassador Summit in the Barcelona HQ at the end of April. I didn't want to go there because it felt disrespectful to leave my home and it felt too painful to part away from my mom. 
On the contrary, she begged me to leave and live my life. We would have heated discussions about this because she saw that I was constantly on the verge of a mental breakdown, and she wanted me to leave and move on. 
After a couple of therapy sessions, I remember confessing to her that I started thinking of going to Barcelona for the summit. 
"My darling, I told you this so many times and I am not even a therapist". Moms do know what's best, right? 
So again, I packed a suitcase, and this time it was full of conscious what-ifs. 
What if I am making a mistake? 
What if I decide to stay in Barcelona? 
What if something happens to my loved ones once I am there? 
What if I am betraying my home? 
Exactly two months into the war, on the 24th of April, I hugged my mom and got into the bus to Warsaw. I found my allocated seat and then I cried. 
It was the start of a new chapter in my life because since then I haven't been back home. Yet. 
Part 3. 
I was happy I made it to the Ambassador Summit. I remember all the faces, all the names, all the words. I felt so much kindness, unity and support. I felt that it was exactly the place where I needed to be. 
(This is a group of kind and intelligent Glovo employees who helped me get on my healing journey)
Ahead of me there were three weeks of working with my teams in Barcelona, Tbilisi, and Almaty. I was finally feeling okayish during the day, but the moment I was alone, I always remembered home. This never-ending, excruciating grief over my fellow Ukrainians. This fear over the future of my home. This anger towards the evil that started the war. This feeling of injustice because it is not how it should be. 
Since I had a regional role and a track record, Glovo relocated me to HQ. I knew it was the right thing to do. And I have been so privileged to have this opportunity in the first place. 
I adapted pretty quickly because Barcelona and I went way back when I was a student that once fell in love with the city. Yet, there is this haunting and agonizing longing for home that I had in Ukraine. I may look fine, and I am genuinely okay. But then I read the news, and it transports me back to that state of anger and pain. 
Another thing is that the constant flashbacks of your good life before war always overwhelm you unexpectedly. It can be a song, a memory in your phone or even a smell. One day you can be in a Zoom meeting, and all of a sudden you imagine yourself on a trolley bus number 17 that takes you through Tarasa Shevchenko Boulevard in Kyiv. You turn off your camera and close your eyes not to let this magical moment go away. Then you open your eyes and realize that you are thousands of miles from home. You take a couple of deep breaths to compose yourself and then you return to the meeting. 
And such memories always hit hard. 
Part 4. 
I cannot stress this enough: I am beyond privileged unlike millions of Ukrainians in the country and abroad. The job I love gave me a chance to stay in an amazing city and keep doing what I am good at. But the last year has also been about reflection, so here are five insights from one lucky Ukrainian girl. 
The nature of the world is dual

. Someone celebrates their best moments, and at the same time there is sorrow and pain on the other side of the world. But it only means that it is our responsibility as humans to help those who need it now. 

Time doesn't heal.

Assuming that time heals all wounds, putting a time frame on when you should feel better is dangerous. First of all, you may become highly critical of yourself if you don't bounce back fast enough. Second of all, you may also lack empathy for other people's prolonged suffering.

Do not assume, ask questions.

"You smile, so you must feel better.

" A person experiences such a wide spectrum of emotions, and a smile doesn't always signify overall well-being.

"I haven't heard much about Ukraine in the news, so things must be getting better."

The bad news is tiring and there are more things to report, but the war is far from being over.

"People in Kyiv order food, so the danger must be in the past."

People need to eat, and they need to support businesses to keep the economy afloat. War is not 24/7 fighting.

Protect your culture, learn your history and cherish your roots.

Our heritage is central to protecting our sense of who we are. It allows us to identify ourselves with others and deepen our sense of unity and belonging. As for history, we must learn from those mistakes so that we do not run the risk of repeating them. 

Power of vulnerability is about courage

. When you are brave enough to talk about your experiences, you will see how you are more alike with people than you ever thought. Vulnerability connects us with others. It opens us up to love, joy, creativity, and empathy.
I am so extremely proud of the place I call home. We make millions of donations, we raise awareness about our country and we help the ones in need. All of us are as united as ever to approach the inevitable victory of Ukraine. 
Slava Ukraini – Heroyam Slava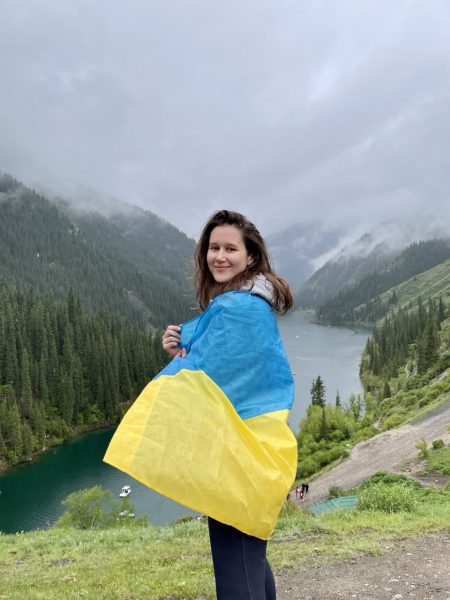 (Taken in May 2022 at the Kolsay Lake, Kazakhstan)
Visit this website to learn more about the war in Ukraine and how you can help us resist and get our home back. And please text me with any questions you may have. I am more than happy to answer them.