LiveOps in Ukraine: Caring for our team and customer service partners
What is LiveOps?
Our LiveOps team owns the customer service at Glovo. The team interacts on a daily basis with our customers, couriers and partners to make sure that they receive the best support and experience possible. As our LiveOps Sr. Director, Ricardo, explains;
"We have a unique chance to help them solve any questions and issues they may have during (or after) an order, and contribute to Glovo's long-term growth and leading position by retaining happy Glovo customers that also promote our brand to new users".
To give you an idea of what it entails to be part of the LiveOps team, Ricardo recaps some of the projects and challenges they have been working on lately. 
Caring for our team and customer service partners
Ricardo: The past few weeks have been among the most challenging and sad we've faced. Just like many other teams at Glovo, at LiveOps we have been doing our best to support the team, our contact center agents, and partners in Ukraine.
Because we have multiple contact center partners as well as hundreds of customer service agents based in Ukraine, we are adapting and contributing given the responsibility we have towards our customers, couriers, and partners there. Based on this adjustment, our action plan included:
Prioritizing our team's safety and well-being:

Since the beginning of the invasion, our 4 LiveOps team members are currently safe and have been in close contact with us and the People team, making sure they were involved in all communications and support provided to all Glovo team members based in Ukraine. This includes the daily safety check-ins and access to all the same support initiatives provided by Glovo.
Supporting our contact center vendors as true partners:

For us to be able to take care of the agents based in Ukraine, we first needed to help out our contact center vendors and partners who employ them. Given the good relationship and partnership we have built, we immediately reached out and designed a joint plan that has ensured they have enough funds to continue to operate, along with faster than established payment of any outstanding invoices. 
Guaranteeing work for all of our agents based in Ukraine:

One of our main concerns was providing economic support to each of the impacted agents based in the region. The plan & agreement with our contact center vendors has been to pay them in a faster cycle and secure their job by temporarily reallocating around 50% of the agents to other accounts, keeping the priority to re-engage them in the future. That way, even though our operations are now much smaller in Ukraine, we were still able to secure work for all who are willing to stay and in need to keep supporting their families and have their minds off the war.
Participating in the broader country initiatives from a customer support perspective:

Many of the initiatives launched by Glovo to support the Ukraine economy and families required participation from LiveOps. One example is the bubble Help Ukraine with donations to Povernis Zhyvym (return safe) charity foundation and National Defence Forces donation and bubble Doctor Online – with 24/7 phone numbers of doctors for free consultation. Also, all other bubbles Help Ukraine, Coffee and desserts, Food, Groceries, Glovo Express, Anything, Courier, Health are active, for which we provided customer service to all of our users who reached out to us with questions and comments. Another example has been quickly scaling our customer support operations and agents as we re-open operations in many UA cities.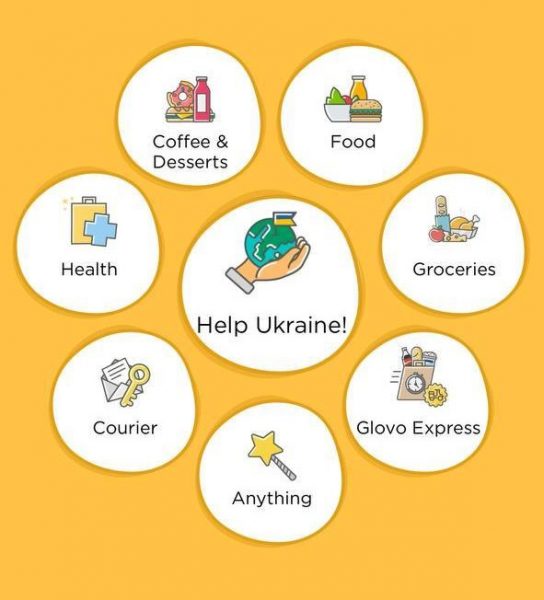 We feel very proud to belong to Glovo, as a company that has stood by Ukraine, and from LiveOps, we are very happy to be part of the efforts to support ukranians. Slava Ukraine!