Office Tours: Glovo Nigeria
In our very first edition of Office Tours, we are introducing you to our office in Nigeria. Operating from one of the most populous and vibrant cities in Africa, Lagos, Glovo Nigeria works every day to make the magic happen. Our Office Manager in Lagos, takes us with her into a typical day in Nigeria.
Hustle & Bustle
The typical 9-5 day starts at around 4am for the average Lagosian. Working right in the center of Victoria Island, the commercial headquarters of Lagos, is an interesting experience. The early morning rush of the city spikes your adrenaline and pumps you up for the day, but the best part starts once you walk through the doors of the Glovo Nigeria office.
The office has a cool landscape with clusters of workstations at different corners to foster collaboration. For many of us, it is the perfect escape from the hustle and bustle of Lagos while working and collaborating with the team towards our common goal: to give everyone easy access to anything in Lagos.
Fun fact: Did you know that Nigeria has over 500 languages and 250 tribes? Lagos is home to it all! 

Work hard, Play hard 
We are currently made up of 8 teams with a total of 42 team members of very diverse ethical and professional backgrounds. As a small and closely knit team, we make team work a priority and all hands are always on deck. However, as it should be, we are not just working on meeting our business goals. Even in diversity, fun is a common denominator to Nigerians and Glovo Nigeria certainly doesn't miss out on this. Every other Friday, we have chill-out events with music, drinks, pizza and wings to relax after a week of pushing limits in full gas!
"The best part of working at Glovo is the culture… from work to play. The flexibility and ownership here is amazing. It gives me the chance to work how it is most comfortable for me but still holds me to very high standards to make sure that I'm doing my best work in the timeframe that we have. The team here is super supportive with so much good vibes, in and out of work. Oh, and yes, the Glovo Nigeria parties are AMAZING! You should definitely drop by!"
        – Oluwamayowa Oremosu (Mayowa), Sales Executive 
Ramping it up from our Friday chill-outs, we have team building events curated around milestone celebrations. Our events typically come with spice. From employee awards, to having game nights at the office or trying to figure out a Sherlock Holmes themed mystery; whatever event we choose, we make sure the energy stays up and brings us closer as a team. Teamwork makes the dream work? Yes, that's our vibe!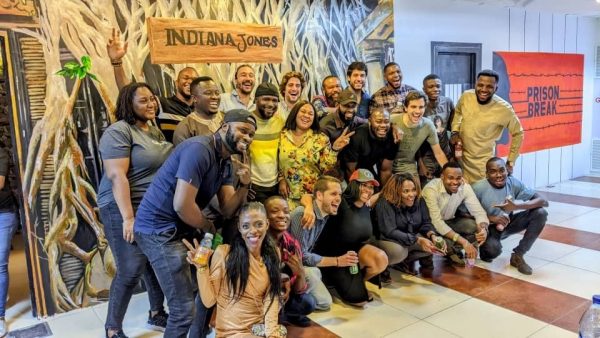 Our goal is to foster a balanced working environment where all Glovo Values are incorporated to help deliver on our promise: to give our employees the job of their lives.
"My two favorite values are Gas and High Bar. Gas reminds me that sometimes it does not have to be perfect initially, I can always iterate and work on improving with time. I interpret High Bar more personally; it's important to keep raising my standards until excellence is achieved, and yes, it is possible! Glovo has definitely helped change my mindset on executing at work."
        – Chisom Eluwa, Content Operations Coordinator
As a team, we are excited and looking forward to launching new categories and expanding to new cities soon!
Discover all Glovo locations here.