How the decision to follow an unconventional career path became a Women in Tech story
Kickstarting a career in the technology industry can oftentimes be rough, especially for women. Due to a remaining unequal gender representation in the tech industry, many of them are left with the question "is this place for me?". For this reason, boosting women's representation in the field is an important topic on the overall agenda at Glovo. 
Read up on the experiences of two of our women in tech: Maite Méndez, who followed a non-linear career path from the people department to a technical position at Glovo, and Alejandra Acosta, our Women in Tech Lead, whose experience in women's right at national and international non-profits led her to investigate gender representation in the tech industry. 
Unconventional path 
Maite: I'm Maite, and on top of being a Product Designer at Glovo, I'm also a DIYer, a playlist curator and an amateur cook.
As far back as I can remember, I've always been fascinated by technology and the digital world.
I was born in the late 1980s at a time when the Internet was booming, and I was lucky to have a PC at home that I frequently used. As a teenager, my hobbies included creating websites with Microsoft Publisher and making banners of my favorite bands with Photoshop and Illustrator. I even remember being asked to prepare the slideshows for school projects, as I was the most familiar with PowerPoint. At one point, I recall thinking I would really like to grow up to work in the tech field and maybe get an engineering degree.
But the more I thought of it, the more the idea seemed off the mark. I had a very vague and preconceived idea of what being a techie implied and in my young mind it was an equivalent to being a nerd and a video game player. And I wasn't one at all. As a matter of fact, I did not even like school (nor video games) and enjoyed mostly art and music classes. On top of that, most of the future engineers I knew when I was 17 didn't look anything like me: a girl with a fringe, still secretly listening to the Spice Girls. I had nothing in common with those boys and felt like I didn't belong.
As a result, I chose to study Social Work in college. The idea of helping others resonated a lot with me and although I found psychology classes very thoughtful, something inside me knew I wouldn't work as a social worker for long. There was no real innovation, no technology and the appreciation for aesthetics that I enjoyed so much was non-existent.
Lucky me, my itchy feet didn't let me settle and over the years I have explored several work fields to discover my true passion. To name a few, I've worked at a mental health institution, a Japanese eCommerce company, a British recruitment agency, and an international animal protection organization. However, it never occurred to me to reevaluate design or tech until I joined Glovo.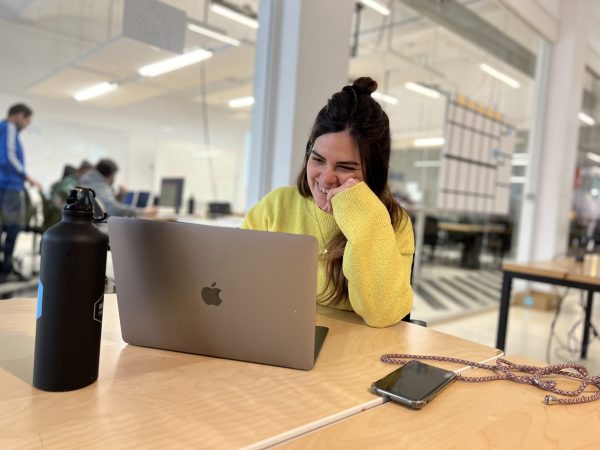 Representation matters
Working at a tech startup has allowed me to become acquainted with designers, developers, and product managers in all areas, and I am exposed to the wonderful work they do. Glovo gave me the chance to finally get a response to the doubts I've had all along. What does it mean to be a developer? What does their day-to-day job look like? What is a product designer? And what on earth does a product manager actually do? Through the experiences of others I started to get curious again and willing to explore further.
But the aha-moment came when I spoke with some wonderful women that work at Glovo. Although the number of females holding leadership and management positions at Glovo is still far from optimal, some of them are breaking the glass ceiling, and their example was the boost I needed. Tech is a broadly male-dominated industry, so seeing these women succeed made me believe I could too!
This all eventually led me to enroll in a UX/UI bootcamp last year, only to realize that human-centered design is in fact the perfect crossroad of the things I'm passionate about, and the skills I've come to master throughout the years. Who would have guessed? I think young Maite did have a hunch about it.
After completing the bootcamp I participated in a selection process to become a Junior Product Designer at Glovo and after several rounds of nervous interviews and a lot of impostor syndrome, I got in! Fast-forward to the present: I'm now part of a lovely team where I feel supported and mentored every day. Challenges are coming fast and I'm learning by doing.
Today, as a woman in a product team, I feel that the right thing to do is to get involved in the several initiatives taking place at Glovo to help anyone with similar doubts to reimagine their own future.
That's how I met Alejandra, our Women in Tech Lead. She's a social expert with years of experience working with women's rights. She recently joined the Diversity and Inclusion team at Glovo to work on the challenge of having more women in tech positions.
"Women in Tech" at Glovo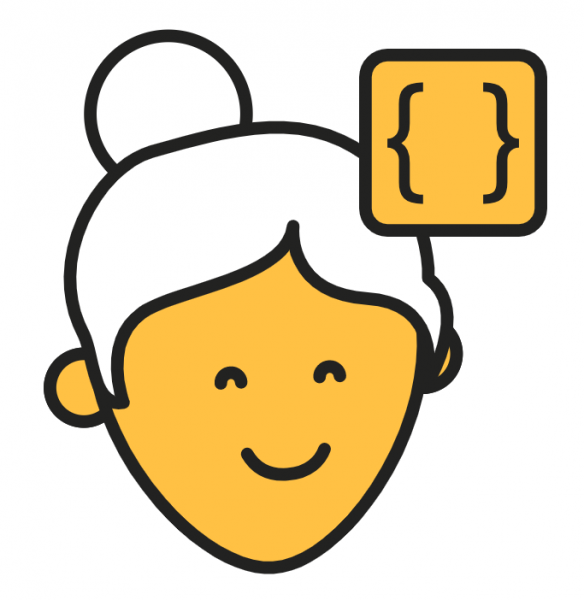 Alejandra: I have been working on women empowerment issues for more than seven years, and from my experience, I can say Maite's story is not an isolated case. In Spain, women occupy only 19.8% of positions in the tech industry (15th edition of the Salary Gap and Women in leadership report 2021), and unfortunately, this is not a coincidence.
UNESCO's research "Cracking the code: girls' and women's education in science, technology, engineering and mathematics (STEM)" explains that this problem is a consequence of the gender stereotypes that both men and women suffer in our education, reinforcing that men choose analytical careers in science and technology while women choose mainly care-oriented careers.
Some say women make these choices out of their vocation, but this study shows that fear of not fitting in what people expect of an engineer drives women's decision-making process. 
Like Maite, many women and girls claim they do not have enough scientific and mathematical skills to cope with an engineering degree.
However, numerous researches in more than 35 countries show that women's insecurity is not based on skills but their fear of failure.
At Glovo, we have been trying to solve this problem by increasing the pipeline of women in tech through awareness and educational campaigns in several high schools in Madrid, Barcelona, and Poland.
The lack of women in tech is strongly connected to biases, and at Glovo, we are determined to break them by constantly exposing our women's work in tech.
We are giving them a seat on the table in events, communication campaigns, and conferences where they can be role models for those girls and women who don't choose tech careers because they don't feel capable of succeeding in them.
But this is not the only effort we are making as a company. 
This year we want to reduce the gender gap in tech by 25% in 2022, and to achieve this:
We will facilitate bootcamps for young women like Maite, who do not have a technical background but are pursuing a career in tech. These bootcamps will train 230 professionals who will have the skills to work in junior positions in data, engineering, and product.

We are organizing internship programs so the best participants of the professional bootcamps can join Glovo and start developing their careers in tech.

We will arrange office visits with schools so that girls between 14 and 18 can see firsthand how to work in a tech company, be inspired by female role models like Maite, and break stereotypes about how an engineer should look like.
To achieve this goal and have more Maites inside and outside Glovo, we need people like you sharing this article so more women can feel empowered by her story and get the word out about the lack of female talent in tech companies. Do you want to join us?
Check our women in tech webpage, where you can learn more about the work we are doing and even volunteer with us!